Bespoke fitted bedroom furniture is the solution for maximising space and installing useful storage customised to your needs. There are so many ways you can use bespoke furniture to make your room one of a kind – plus, bespoke means it will fit perfectly!
Bi-folding doors
Create space by utilising nooks in your room which are often found in bedrooms – leaving you with sloping ceilings to contend with. Bi-folding doors will give you more space and as well as leaving you with a sleek finish.
Adrian recently installed a bespoke fitted wardrobe to overcome a sloping ceiling problem in a client's bedroom leaving them with enough storage and a beautiful finish.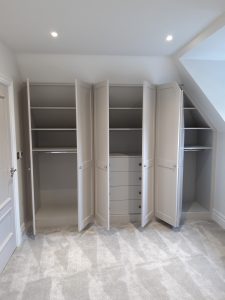 Add shelving and drawers into your wardrobe
By adding shelving into your wardrobe, it helps you to utilise the lost space above or below your clothing to allow you to keep things clean and tidy. Drawers will give you the perfect place to keep your shoes, they'll be out of the way, but you'll have easy access to each and every pair!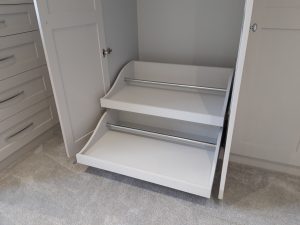 Space you're not sure what to do with?
Use small spaces to create something useful like a dressing table! Adrian can even add in storage for you keep everything you need in your bespoke dressing tables – such as your makeup and hairbrush so they aren't on show, keeping your bedroom a clean and tidy space.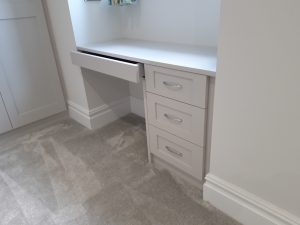 If you're ready to design your perfect bedroom, get in touch with Adrian to see how he can handcraft everything you're looking for!