Almost all houses have an awkward space that requires some creativity, whether it be a living room corner, bedroom nook, dead space under staircases or just a small floorplan to work to. However, there are plenty of ways to maximise what you have available in your home with some clever fitted furniture solutions.  
See our suggestions to find the ideal way to utilise the most awkward spaces in your home that you'll soon wonder how you lived without.  
Create a cosy ready nook under windows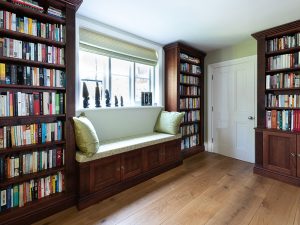 If you've got a large window taking up space where you would put wall storage, create a cosy ready nook with hidden storage. This will give purpose to a space that otherwise wouldn't be used but also keep rooms uncluttered with the extra storage. This works especially well in bay windows, but also can transform a space between two pieces of furniture like the library Adrian previously handcrafted.   
Invest in bespoke fitted furniture for sloped ceilings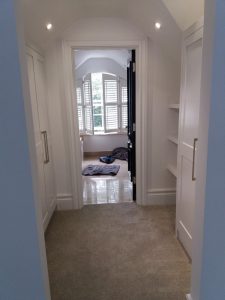 If you have a space with sloping ceilings, it's almost impossible to find off the shelf furniture that fits flush to the walls and ceiling, leaving unusable gaps. This is a common problem in loft conversions that can be solved by spending wisely on bespoke fitted furniture that use every millimetre of space.  
Adrian has recently manufactured and installed a bespoke fitted wardrobe and shelving to overcome this problem in a small sloping space off a client's bedroom. This space now offers ample storage for the couple, acting as a mini dressing room.  
Create storage under the staircase   
Stairs are an obvious necessity for multi-storey properties which are often overlooked as dead space, but they are an area that can be used for multiple purposes. If you're craving extra storage utilise this space as fitted cupboards or shelving to leave living spaces less cluttered and feeling more open. Or why not make this your office space with a fold down desk that can be hidden when not in use?  
If you're ready to fall back in love with the most awkward spaces in your home get in touch with Adrian to discuss how he can handcraft beautiful bespoke fitted furniture for any room in your home.